Dr. Jorge Castiglioni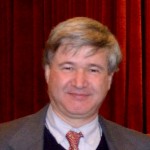 Profesor agregado de Fisicoquímica


Formación concluida
Doctorado en Química, opción Catálisis.
Universidad Louis Pasteur - Strasbourg I, Francia.
1995.


M. ROMERO; D. MONBRU; J. CASTIGLIONI; R. FACCIO; A.W. MOMBRÚ
In situ Growth of Ceramic Quantum Dots in Polyaniline Host via Water Vapor Flow Diffusion as Potential Electrode Materials for Energy Applications.
Journal of Solid State Chemistry, 2017.



J. CASTIGLIONI; J.M. GATICA; C. DE LOS SANTOS; M.P. YESTE; G. CIFREDO; M. TORRES; H. VIDAL
Use of pillared clays in the preparation of washcoated clay honeycomb monoliths as support of manganese catalysts for the total oxidation of VOCs.
Catalysis Today, 2017.



G. SCALECE; M.F. MOSQUILLO; S. ROSTÁN; J. CASTIGLIONI; I. ALHO; L. PÉREZ; I. CORREIA; F. MARQUES; J. COSTA-PESSOA; D. GAMBINO
Heteroleptic oxidovanadium(IV) complexes of 2-hydroxynaphtylaldimine and polypyridyl ligands aganinst Trypanosoma cruzi and prostate cancer cells.
Journal of Inorganic Biochemistry, 2017.



D. QUIÑONE; N. VEIGA; J. TORRES; J. CASTIGLIONI; C. BAZZICALUPI; A. BIANCHI; C. KREMER
Synthesis, solid-state characterization and solution studies of new phytate compounds with Cu(II) and 1,10-phenanthroline: progress in the structural elucidation of phytate coordinating ability.
Dalton Transactions, 2016.